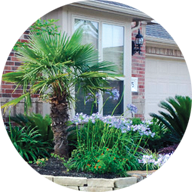 YARDBIRDS LANDSCAPING
NORTH HOUSTON BASED COMPANY
Providing landscape design, hardscape design, and lawn maintenance services to residential and commercial customers in the greater Houston area.
WE DESIGN - BUILD - MAINTAIN
It is our mission to bring the homeowners vision to life through superior design, and ultimately, a finished product that goes above and beyond all expectations. Our goal is to provide a beautiful outdoor environment that is inviting, healthy and comfortable. Homeowners can be confident in our team of experts who are dedicated to landscape design and construction. We want people to love the outdoors as much as we do!